We are Manufacturer, Supplier, Exporter of Jacketed Ball Valves, 3 Way Jacketed Ball Valve, Jacketed Valve, Fully Jacketed Ball Valve. Our setup is situated in Pune, Maharashtra, India.
Fire safe design as per API-607
Cavity filler available
Full bore
2-piece fabricated jacket, welded to valve body.
Double sealing of body insert
One piece body design
Adjustable and maintenance free stem sealing with additional O-ring
Design Per Customer Requirements:
Metal to metal sealing system for high pressure, high temperature and abrasive operating conditions
Ball valve design customizable to special vessel flanges
Piping acc. to customer request e.g. thread, Flanged etc.
Extended stem
Antistatic- Design
Scraper chamfer for cutting viscous product
Leakage Test:
Acc. To EN 12266-1 leak rate A
Actuator mounting flange:
TYPE :
Single Piece Flanged End Jacketed Ball Valve
PORT :
Full Bore
SIZE :
15 mm to 250mm NB
Pressure Rating :

ASME #150 PN 20

ASME #300 PN 50

Temperature Range
35 Deg C to 538 Deg C
Body Materials
Stainless Steel / Carbon Steel / Alloys
Design Standard
API 6D rev 23; ISO 17292 rev 2004
Face to Face Dimension
ASME B16.10 Rev 2009
End Flanges
ASME B16.5 2013
Fire safe design
API-607 Rev 2010
Testing
API 598 Rev 2009
Sour Service
NACE MOR 0175 Rev 2009
Documents
BS/EN 10204-3.1 REV 2004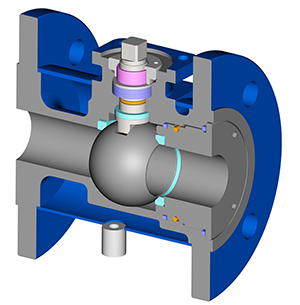 FULL JACKETED BALL VALVES Sankey Full Jacketed Ball valves are designed in Single-Piece Welded Jacket construction for Standard Bore valves. The jacket extends from one flange to other which is generally oversize with face to face dimension of corresponding valve. The jacket comes in two-piece construction welded together. The jackets of the valves can be rated for heat transfer media pressure up to 22 bars, In Standard design the jacket is rated at 10.3 bars. The valve can also be used in FDA / Sanitary Applications.
Jacketed ball valves to handle highly viscous materials or materials that solidify at ambient temperatures are available for use with steam or another heat transfer media. Also available in #600 to #1500 pressure rating (Custom valve)
Valve Application: Filter dryer / vacuum dryer / Stirrer vessel / Reactor / Other vessel

Areas of application: Chemical/ Pharmaceutical/ Food /Cosmetics

Media: Bitumen Application / Fluids / Emulsion/ Syrup / Paint / Food Product (Chocolate etc.) / Granulate material / Molten Sulphur
KEY FEATURES:
ADVANTAGES
SANKEY Jacketed Ball Valve
Cavity free
The usual cavity between ball and housing in non- cavity free ball valves give cause for disturbance because residual products can crystallize, polymerize and so affect the function.
Clean, non- false product
No sediments of expensive products in the ball valve housing
Fire-safe tested and approved
SANKEY Wafer ball valves of the WF series have been tested successfully per British Standard BS 6755 and API-607.The material utilized for the soft seals in "fire-safe" valves remains dependent upon the required chemical resistance to suit the fluid, the application and operation conditions. When fire does break out, it is important that it does not spread through failures in pipe-work systems. Even under the most extreme conditions shut-off valves provide:
• Secure Operation, • Reliable Sealing in shut-off position, • Reliable Sealing to the outside.
JACKETED BALL VALVE
| Sr.No. | PART NAME | STAINLESS STEEL | CARBON STEEL | QTY |
| --- | --- | --- | --- | --- |
| 1 | BODY | ASTM A351 CF8M | ASTM A216 WCB | 1 |
| 2 | INSERT | ASTM A351 CF8M | ASTM A216 WCB | 1 |
| 3 | BALL | ASTM A276 SS316 | ASTM A276 SS316 | 1 |
| 4 | STEM | ASTM A479 SS316 | ASTM A479 SS316 | 1 |
| 5 | SEAT | PTFE | PTFE | 2 |
| 6 | STEM SEAL | GRAPHITE | GRAPHITE | 2 |
| 7 | GLAND | SS316 | MS | 1 |
| 8 | GLAND BEARING | DELRIN | DELRIN | 1 |
| 9 | SPACER | SS316 | SS316 | 1 |
| 10 | STEM THRUST WASHER | GFT | GFT | 1 |
| 11 | BODY SEAL | GRAPHITE | GRAPHITE | 1 |
| 12 | STEM O-RING | VITON | VITON | 1 |
| 13 | BODY SEAL | GRAPHITE | GRAPHITE | 1 |
| 14 | END CONN. O-RING | VITON | VITON | 1 |
| 15 | JACKET TOP | MS | MS | 1 |
| 16 | JACKET BOTTOM | MS | MS | 1 |
| 17 | NOZZLE | SS304 | SS304 | 2 |
| 18 | LEVER | MS | MS | 1 |
| 19 | ALLEN BOLT | MS | MS | 1 |
| 20 | STOPER | MS | MS | 1 |