We are Manufacturer, Supplier, Exporter of Tank Bottom Ball Valves, Flush Bottom Ball Valve For Tank and Reactors. Our setup is situated in Pune, Maharashtra, India.
Low sump area
Cavity free
Full bore
Direct mounting to vessel flange
Unique push fit design (easy maintainability/ low torque)
Angled stem design
Double sealing of vessel flange
One piece body design
Adjustable and maintenance free stem sealing with additional O-ring
Design Per Customer Requirements:
Metal to metal sealing system for high pressure, high temperature and abrasive operating conditions
Ball valve design customizable to special vessel flanges
Bottom vessel flange contour can be adapted to vessel shape.
Heating jacket
Flushing connection
Extended stem
Double packed stuffing box design
Antistatic- Design
Scraper chamfer for cutting viscous product
Leakage Test:
Vessel bottom flange acct. to DIN28117/28140
Special connection as per customers' request
Leakage Test:
Acc. To EN 12266-1 leak rate A
Actuator mounting flange:
ADVANTAGES
SANKEY METAL SEATED BALL VALVE
Metal to Metal Seating
The ball and the seat rings are hard-faced on the sealing areas by using different coatings selected upon the service conditions i.e. Electro-less Nickel Plating, Stellite hard facing, Chromium Carbide and above all Tungsten Carbide which assures, per our experience, the best results in most applications. The sealing is assured by true metal to metal contact between the two hard-coated surface. Each coating is applied per specific methodologies, i.e. Tungsten Carbide is applied by high velocity detonation gun.
Stem Design
The stem is independent from the ball and is a blowout proof design. The stem seals are designed per the service conditions, i.e. for high temperature valves (above 250 degC) stem seals is composed of loaded graphite packing. Valves for high temperature conditions are designed with extended stem to maintain the maximum sealing capacity of the packing.
TYPE :
Single Piece cavity filler Flanged End
PORT :
Full Bore
SIZE :
15 mm to 250mm NB
Pressure Rating :

ASME #150 PN 20

ASME #300 PN 50

ASME #600 PN 100

Temperature Range
35 Deg C to 280 Deg C (Soft Seated)
Body Materials
Stainless Steel / Carbon Steel / Alloys
Design Standard
ISO 17292 rev 2004
End Flanges
ASME B16.5 2013
Face to Face Dimension
Non-Standard (As per Manufacturer)
Fire safe design
API-607 Rev 2010
Testing
API 598 Rev 2009
Sour Service
NACE MOR 0175 Rev 2009
Documents
BS/EN 10204-3.1 REV 2004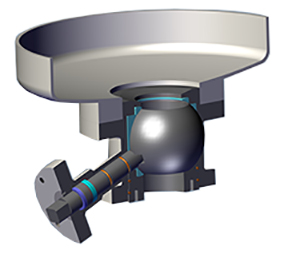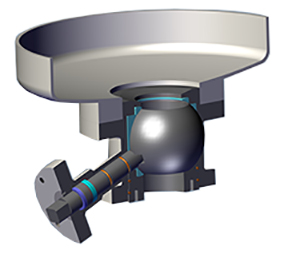 The SANKEY TBV series flush bottom tank ball valve incorporates all the benefits of ball valve negating the disadvantages of conventional flush tank valve. Our Sankey TBV series valve incorporates the geometric design of the mounting Pad, which is welded to the tank, allowing a smooth flow and prevent stagnating of the media.
Our Valves offer the best solution:
Where minimum Dead Space between ball and tank is required.
Where media could stagnate at tank outlet.
Where Full blending of reactor volume is imperative.
Advantage over a conventional tank bottom valve
Higher CV
Direct Flow
Simple Quarter turn operation (Easy automation)
Low weight and compact
Easy maintenance
Valve Application: Filter dryer / vacuum dryer / Stirrer vessel / Transport vessels / Reactor / Other vessel
Areas of application: Chemical / Pharmaceutical / Food / Cosmetics
Media: Gases / Fluids / Emulsion / Syrup / Paint / Food Product (Chocolate etc.) / Granulate material / Powder.
KEY FEATURES:
ADVANTAGES
SANKEY Tank Bottom Ball Valve

Low sump area
By the use of an angled stem design and the direct mounting to the vessel bottom flange, the ATEC bottom outlet ball valve ensures flush fitting with the vessel inner bottom.
Minimal accumulation of product between ball valve ball and vessel inner bottom
Improvement of product mixing in stirrer vessel
Reduction of efflorescence and product agglomeration
Avoiding false samples
Cavity free
The usual cavity between ball and housing in non- cavity free ball valves give cause for disturbance because residual products can crystallize, polymerize and so affect the function.
Clean, non- false product
No sediments of expensive products in the ball valve housing
Angled stem design
Because of the further distance from the actuator mounting flange to the vessel, it makes the automation of the ball valve and isolation of the vessel very convenient.

Direct mounting to vessel flange
The ball valve is mounted directly using screws or bolts to the vessel flange.

• Direct and easy assembly of ball valve to the container flange
TANK BOTTOM BALL VALVE
| Sr.No. | PART NAME | STAINLESS STEEL | CARBON STEEL | QTY |
| --- | --- | --- | --- | --- |
| 1 | BODY | ASTM A351 CF8M | ASTM A216 Gr WCB | 1 |
| 2 | INSERT | ASTM A479 SS316 | ASTM A216 Gr WCB | 1 |
| 3 | BALL | ASTM A182 SS316 | ASTM A182 SS316 | 1 |
| 4 | STEM | ASTM A182 SS316 | ASTM A182 SS316 | 1 |
| 5 | SEAT | PTFE | PTFE | 2 |
| 6 | STEM SEAL | GRAPHITE | GRAPHITE | 1 |
| 7 | GLAND | SS316 | MS | 1 |
| 8 | STEM THRUST WASHER | GFT | GFT | 1 |
| 9 | STEM O-RING | VITON | VITON | 2 |
| 10 | END CONN. O-RING | VITON | VITON | 2 |
| 11 | CAVITY 1 | PTFE | PTFE | 1 |
| 12 | CAVITY 2 | PTFE | PTFE | 1 |
| 13 | LEVER | SS410 | SS410 | 1 |
| 14 | STOPER | MS | MS | 1 |